Murin-an Miniature Moss Gardening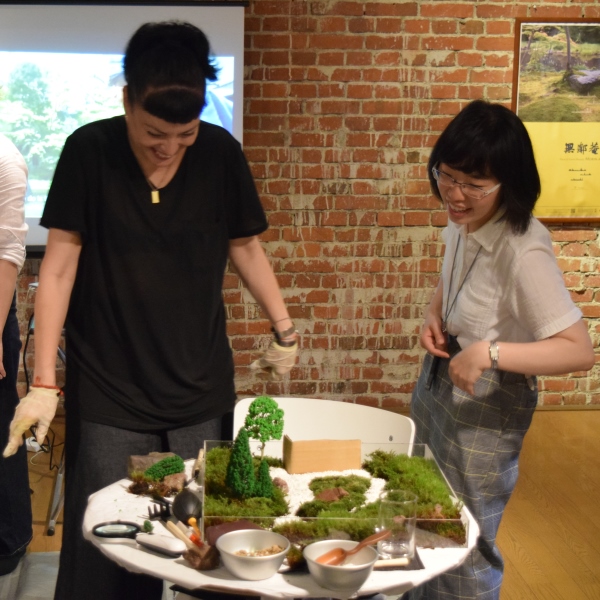 There is great beauty in inconspicuous plants and moss in Japanese Garden. Under the guidance of a garden concierge, learn about the design of Japanese Garden and to arrange moss and stone to create a miniature Japanese garden. After the lesson, enjoy tea and sweets while admiring your beautiful garden.
・Learn the exquisite art of Japanese Gardening
・Make your own miniature Japanese garden
・Take a guided tour of the treasured Murin-an Garden
・Enjoy tea while admiring miniature Japanese gardens
・Includes complimentary English interpretation
"We so enjoyed the moss workshop + garden tour, getting to design our own gardens enabled us to explore the concepts that make Japanese gardens so beautiful." Jake together with his mum (US, California)
Event Overview
● Date: Every Saturday
*We will not be holding moss garden making events for Dec. 29 (Sat.), as Murin-an will be closed from Dec. 29-31, or Jan. 12 (Sat.), as another event is scheduled to be held on this date.
● Time: 2:30-4:00 PM
● Fee: ¥9,600/person for instruction in English.
*Charge for matcha tea is included in the admission fee.
● Reservations: Please inquire about reservations by noon on the preceding Saturday.
● Number of participants: 6-20 people (reservation required/reservations are made on a first-come, first-served basis)
● Place: Murin-an's western building
● Guide: A Murin-an garden concierge
◆ In the event that the total number of reservations comes to less than six people, the moss garden making event shall be canceled. A total number of six reservations does not mean, however, that each group has to be six people or more.
A moss garden making event will be held, for example, if three groups of two people make reservations.
◆ Contact before the event: We will notify you by email (or by telephone if we do not know your email address) about whether or not we plan to hold a moss garden making event by noon on the preceding Saturday.
◆ Payment: Refunds shall be made only for those who have made payment before it has been decided not to hold a moss garden making event (processing fees shall be borne by Murin-an). A 100% cancellation fee shall apply to all cancellations made after the Saturday preceding the date of the event.