Tea as Performance: Kissako ("How to Drink Tea")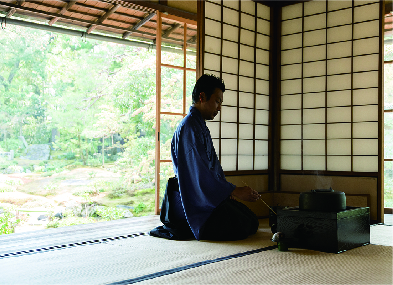 "Kissako" means "to drink tea." It isn't the act of physically swallowing the liquid of tea. It means to concentrate on tea, to re-recognize that the time and space flowing through a given place is "now" and accept completely the existence of the one in front of you. No matter how that person came to be here or who they may be. The door to the time of tea then opens and a performance begins. This is the thinking with which we serve tea at Murin-an.
◇Kissako 1 (Café):
Coffee, matcha tea, and sweets served in a garden with a space that is opened 180° wide. Enjoy conversation right in the middle of the changing scenery.
◇Kissako 2 (Zaifu):
Tea served in a tea ceremony style every Tuesday morning. Feel free to drop in.
◇Kissako 3 (Tea Ceremony):
We held a tea ceremony on May 12 (Sun.) for Japan's Boy's Day Festival. We are also planning tea ceremonies for Tanabata (the Star Festival) and Hatsugama (a new year's tea ceremony). Inside the tea room, host and guest sit face to face. Here you can experience the feeling, "So this is what tea is."
https://murin-an.jp/events/event-20190512/